Interoperability – Rhino Import-Export
Tips and Tricks • Campbell Yule • 12 June 2016
AEC - Tip of the Day, Ci Tools, Rhino
Further enhancing its interoperability, ARCHICAD is now able to read and write the native Rhino (3dm) file format, enabling a "reference model" workflow between the two applications.
Note: 3dm is the native file format of RHINOCEROS, a 3D computer graphics and CAD application developed by Robert McNeel and Associates Company. Rhinoceros geometry is based on the NURBS mathematical model, which focuses on producing mathematically precise representation of curves and freeform surfaces in computer graphics (as opposed to polygon mesh‐based applications). (Wikipedia)
Import 3dm File
Import part or all of the Rhino model to ARCHICAD.
The imported model will appear as a non‐editable GDL object, maintaining the logical structure of the original Rhino model. A new technology, implemented as an add‐on, interprets NURBS coming from Rhino and turns them into segmented surfaces in ARCHICAD. The level of segmentation can be adjusted in the object settings dialog.
Export to 3dm
From any 3D view, export part or all of the ARCHICAD model to Rhino (3dm file format). Only geometric information is exported, because Rhino handles only this type of data. Non‐geometrical data (properties, schedule data, quantities) are not transferred.
Mapping of ARCHICAD textures is not supported, since multiple textures in a single element is not supported by Rhino.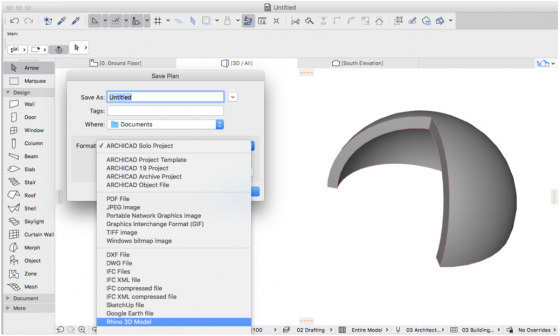 Back to Tips and Tricks