How to avoid issues with importing STEP and IGES files
Tips and Tricks • Jeeno Chandrasekaran • 26 May 2022
Manufacturing, MFG - Tip of the Week, MFG - Tips and Tricks, SOLIDWORKS
SOLIDWORKS added the "3D Interconnect" import option to the program in 2017. This allows for proprietary CAD data to be opened in its native format, keeping a link to the original part or assembly. Plus, the ability to work seamlessly with third-party CAD files inside SOLIDWORKS.  But, for STEP and IGES files, this setting can cause some unwanted results.  Below are a few examples of issues you might come up against.
You can run "Import Diagnostics" on non-native SOLIDWORKS models, but you cannot heal or fix any bad geometry.  Modifying (fixing) any geometry could change the face and edge identifiers.  That, in turn, would break the update capability of "3D Interconnect".
Not being able to run "Feature Recognition" on an imported part that was not converted to the SOLIDWORKS file format.
A STEP or IGES file opened as an assembly in its native format will not allow individual components to be opened in a separate window.
You can't float the individual STEP or IGES components in the assembly.  This means adding mates will not affect how they interact with one another.
Two Ways to Fix the Issues Above
You can turn off "3D Interconnect" by selecting Tools > Options > System Options > Import and clear "Enable 3D Interconnect".  See the screenshot below.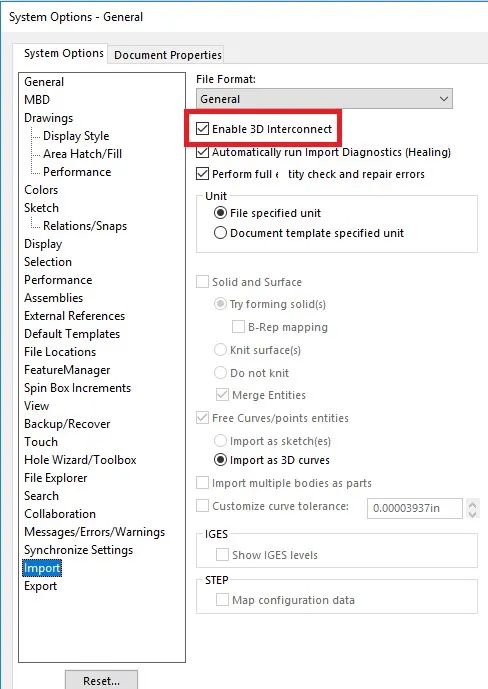 If you don't want to turn off the 3D Interconnect option, there is a quicker way to change a file to the SOLIDWORKS native file format. In the Feature Manager Design Tree, right-click the inserted third-party native CAD file and click "Dissolve Feature".  See the screenshot below.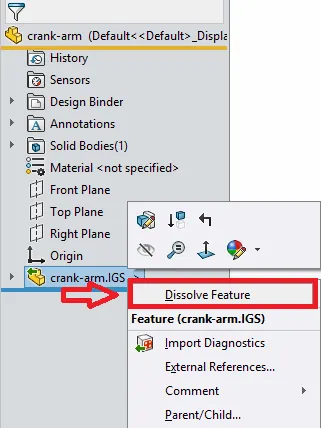 Note:  "Dissolve Feature" is something that can't be undone.  You would have to re-import the file with the "3D Interconnect" option re-enabled to re-establish the original link.
Some SOLIDWORKS users have also noticed better results with eliminating surface errors in components by importing the assemblies with 3D interconnect and then using "Dissolve Feature".
Central Innovation wants to make this process easy for our customers. If you require further explanation or feel the Performance issue or other unknown error, please contact us through email – support@intercad.com.au, support@intercad.co.nz
Jeeno Chandrasekaran
Applications Engineer Central Innovation
At Central Innovation, we can provide all – or part – of the solution. Including SOLIDWORKS, ARCHICAD, and many more industry-leading tools.
It's something we've been doing for almost 30 years. Our commitment to customer service is second to none: we help you get the best out of your technology.
For a truly unique solution to your unique challenges, please contact us. Or read about some of the great services and solutions we offer.
New South Wales – Head office | CAD software supplier
The best solution is the one tailored to your needs. Let's discuss your options, at our New South Wales Central Innovations head office. Or call us or email us.
Back to Tips and Tricks