Tip to resolve Solidworks screen flickering issue
Tips and Tricks • Jeeno Chandrasekaran • 1 June 2022
Manufacturing, MFG - Tip of the Week, MFG - Tips and Tricks, SOLIDWORKS
Is your SOLIDWORKS session cascading in upon itself and leaving you dizzy, no longer sure which way is positive Z? Or, maybe the text in your feature tree has shrunk down to the point of being illegible. Most likely, you are suffering from mishandled DPI Scaling settings.
Figure 1: Screen Duplication Example
What is happening?
If you're running Windows 8.1 or Windows 10, in combination with a 4k external display, the OS will attempt to automatically choose an appropriate scaling setting for the display. Often, users will want to make adjustments to those settings to fit their desired layout. To enlarge text
and other UI elements, DPI scaling is usually set globally in the Display settings found in the Windows Control Panel.
However, this can lead to blurry text and other oddities in applications that do not work well with the global scaling settings.
To resolve this issue and bring SOLIDWORKS back into the waking world, follow the steps below.
How do we fix this?
Step #1
Browse using Windows Explorer to find the SOLIDWORKS Executable file (SLDWORKS.exe).
By default, this is located in C:\Program Files\SOLIDWORKS 20XX\SOLIDWORKS (where XX represents the year) or in C:\Program Files\SOLIDWORKS Corp\SOLIDWORKS
Step #2
Right-click on SLDWORKS.exe and choose Properties from the shortcut menu.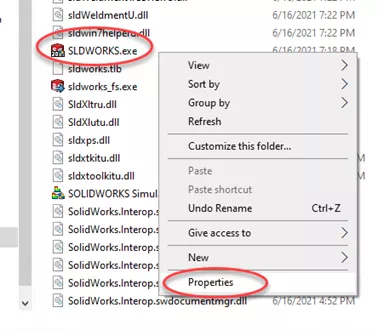 Step #3
Click on the Compatibility tab and click the Change settings for all users button at the bottom of the dialog.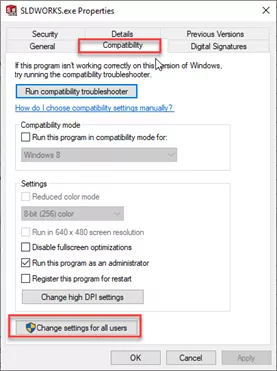 Step #4
Click Change high DPI settings and then check the box labeled Override high DPI scaling behavior. Ensure that the Scaling drop-down menu is set to Application.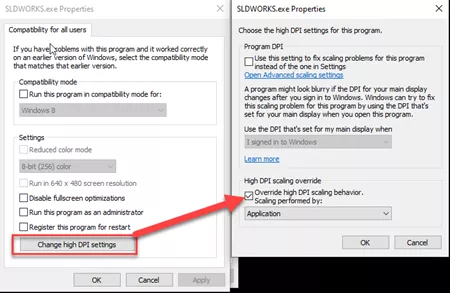 Step #5
Lastly, reboot your computer and then launch SOLIDWORKS. This should resolve the SOLIDWORKS display scaling issues you were seeing and return you to normal operation.
Jeeno Chandrasekaran
Applications Engineer Central Innovation
At Central Innovation, we can provide all – or part – of the solution. Including SOLIDWORKS, ARCHICAD, and many more industry-leading tools.
It's something we've been doing for almost 30 years. Our commitment to customer service is second to none: we help you get the best out of your technology.
For a truly unique solution to your unique challenges, please contact us. Or read about some of the great services and solutions we offer.
New South Wales – Head office | CAD software supplier
The best solution is one tailored to your needs. Let's discuss your options, at our New South Wales Central Innovations head office. Or call us or email us.
Back to Tips and Tricks