Quick Key Tuesday – Elevate
Tips and Tricks • Gareth Morgan • 30 April 2019
AEC - Tip of the Day, Archicad, Shortcut Keys
Move a selected 3D elements vertically along the Z axis?
MAC: Command + 9
WIN: Control + 9
Type the value by which you wish to raise or lower all selected elements.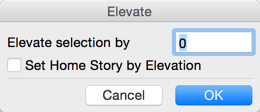 To allow the element's Home Story to be automatically reset to reflect its new elevation, check Set Home Story by Elevation.
Back to Tips and Tricks